What's new in JungleDragon V3
JungleDragon has been redeveloped to bring you the best wildlife experience across devices. This article tells you all about the spectacular improvements. Please take some time to absorb the new JungleDragon, we promise you it will be worth it!
A new look
One of the first things you will notice in the new JungleDragon is the new look. We have restyled every page to a new theme called Jungle Safari. This new theme has softer colors, aligns better with the topic of the site, and uses far less resources. The new theme comes along many layout changes as well; the header is lower and leaves more room for content, and the site is wider than before on desktop browsers.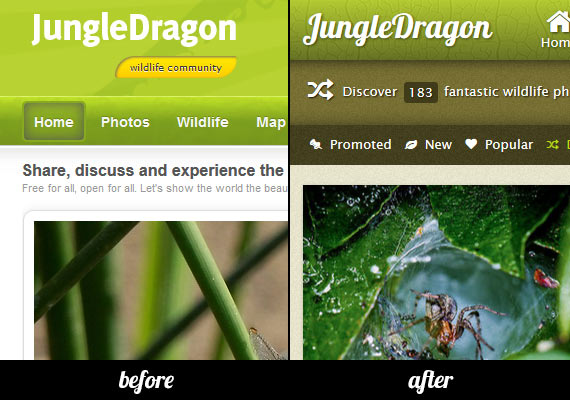 Wildlife for all your devices
By far the biggest change in JungleDragon V3 is that it is responsive. Where the previous site was only designed for desktop browsers, the new JungleDragon works on smartphones, tablets and desktops. We did not hardcode the design for any specific size or brand of device, instead the design adapts itself base on the capabilities of your device.
What's more, we did not dumb down the mobile experience. All functionality of JungleDragon is available on any device. We're not forgetting about big screens either, the new JungleDragon offers desktop-like photo viewing and slideshows so good that you can run them on your TV.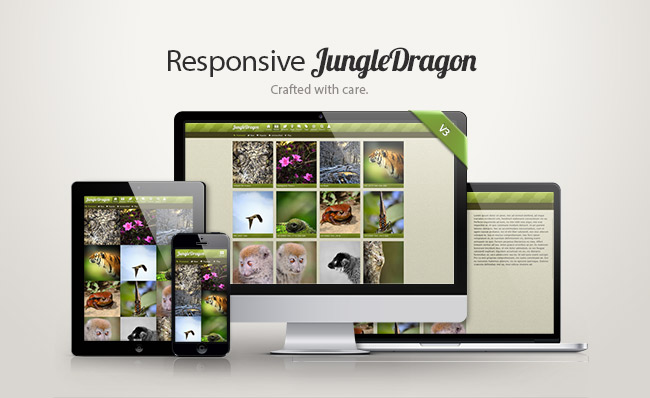 A redesigned homepage
We've made some significant changes to the homepage. The previous site featured a carrousel showing promoted photos, followed by the most recent photos uploaded. The new homepage removes the carrousel and showcases promoted photos only using large thumbs. Promoted photos can be of any aspect ratio, unlike the carrousel photos before.
The new homepage may take a while getting used to for existing members who were used to seeing the newest photos on the homepage. No worries, the newest photos are only a click away from the photo menu.

Another change on the homepage is that we replaced the recently modified photo lists with recently introduced species. Species introductions, being the first to upload a photo of a species, has turned out to be an important event in JungleDragon, and the new homepage highlights that.
New photo selection modes
Every interaction in JungleDragon starts with photo viewing, therefore finding the photos that you need is of critical importance. The new homepage features a navigation bar with much improved photo selection modes:

Promoted: New! check out any photo ever promoted. Awesome photos guaranteed.
New: New photos no longer are on the homepage, uses this option for the newest photos.
Popular: Most popular photos based on photo karma, with the ability to define the period.
Discover: New! An addictive new way to get random photos from all photos ever uploaded.
Unidentified: For photos that do not have a species identified, now deeply integrated into the homepage.
Friends: Instant access to photos uploaded by people you follow.
All of these photo overviews have RSS enabled to allow you to subscribe to updates. And, all overviews can be played as a fullscreen slideshow.
Promotions done right
Homepage promotions have grown into an important way to appreciate interesting photos by members. In the new JungleDragon, they are even more important, given that the new homepage shows promoted photos only. Therefore, we made a few improvements.
As mentioned, promoted photos can now be of any aspect ratio or orientation. In addition, photos that are promoted are now clearly labeled when you open them: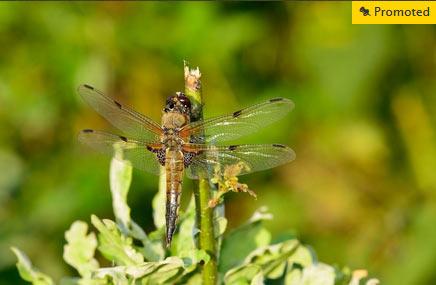 And finally, there is now an overview of your promoted photos only, so you no longer have to maintain manual lists for them: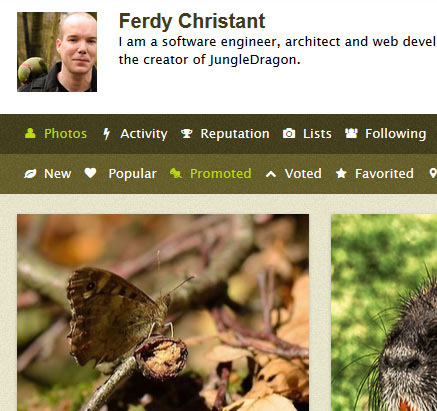 Epic photo thumbnails
The previous site featured high quality thumbnails, yet they were fairly small, you could barely make out the subject on the photo. The new JungleDragon comes with enormous thumbnails that scale to your browser window. No matter the aspect ratio, photos are contained into a centered square box. These enormous thumbs are efficient, the proper image size is loaded based on the resolution of your device.
New photo page, a larger view on wildlife
As you click on any thumb, the photo page will be opened. It largely works the same as on the previous site, yet as the site is now wider, the main photo also becomes larger.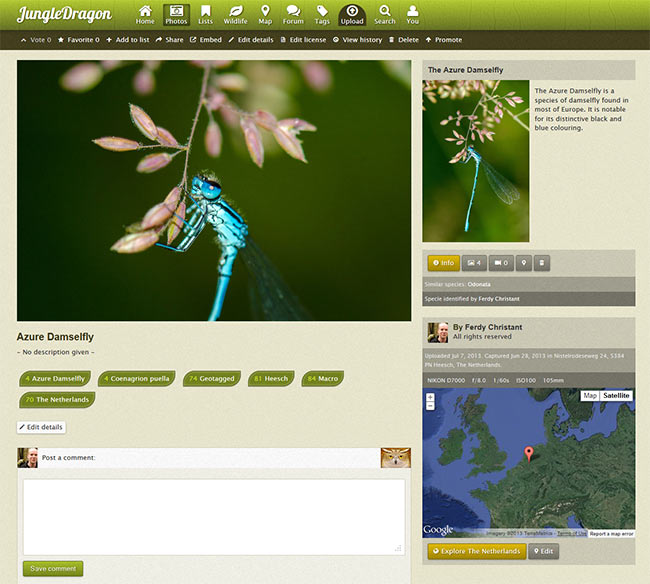 We also made a layout change to the photo page; photo actions are now in the navigation bar above the photo, instead of below it. Furthermore, voting and favoriting is much faster, and does not refresh the page.
World-class fullscreen viewing
If the epic thumbs or upsized photo page are still not large enough, the new fullscreen photo viewer is just for you. It has been completely redeveloped.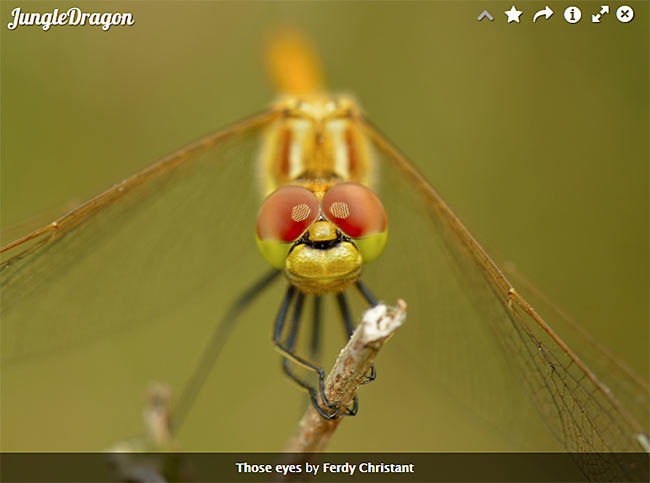 The new fullscreen mode scales from devices as small as 320 pixels wide to mega screens as large as 2560 pixels wide. No matter your device size or orientation, the viewer always maximizes your photo. If that's still not large enough, the fullscreen icon in the header allows your browser to be put in fullscreen mode, removing all clutter alltogether.
It does not end there. The new viewer allows for directional zooming, where you can use your mouse wheel to zoom in and out of the area you are pointing at. Furthermore, image panning now works across the image.
Other options, such as the info panel that shows species information and HD mode are still there, packed into a light and unobtrusive header.
Finally, the viewer respects photographers rights. It constrains the photo size to the maximum resolution in which you uploaded it, and downloading of images is blocked on both desktop and mobile devices (although it cannot be entirely prevented).
Slideshows reinvented
Any list of photos in JungleDragon can be opened in slideshow mode using the play button. Similiar to the fullscreen single photo viewer, the slideshow player has been redeveloped from scratch. It has all the qualities of the single photo viewer plus more. You can navigate by thumb, keyboard, swipe, click or auto play. With 18 different photo sortings available in JungleDragon and the ability to create your own lists, there are no limits to crafting gorgeous slideshows that play on any device.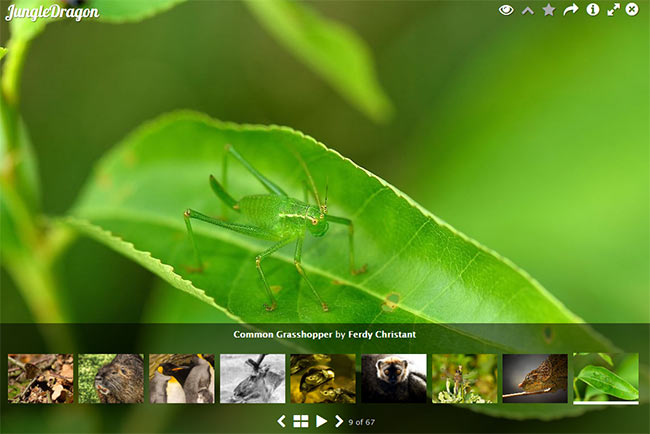 Moving wildlife
We haven't forgotten about video either, with the fullscreen species video player being fully redesigned. Experience epic full HD video enriched with species information, from screens as small as mobile to screens the size of your TV.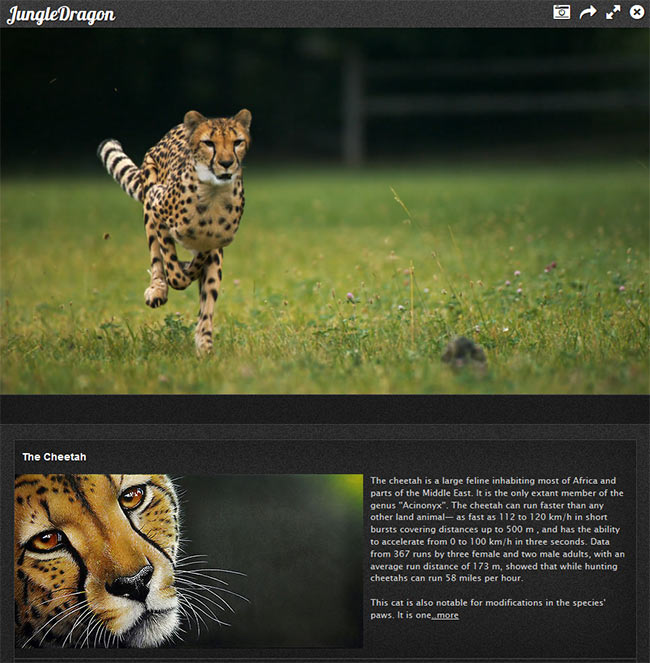 And as before, you can include videos in comments and forum topics, and they will appear larger than ever.
Wildlife around you
Like everything else in the new JungleDragon, the global wildlife map is now responsive. By default, it will zoom into your current location (if you allow it), showing you which wildlife was spotted near you.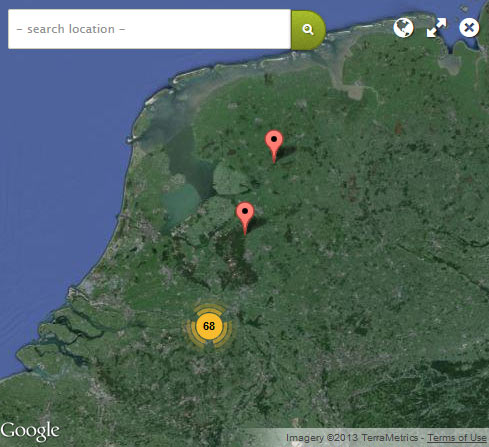 Built to zoom
Zooming into websites can be useful on big screens where you have a large viewing distance, or if you have a visual impairment. JungleDragon V3 is built for zooming. The below screenshot is zoomed 400% in the browser. Almost every website fails at the slightest zoom yet everything stays sharp in the new JungleDragon: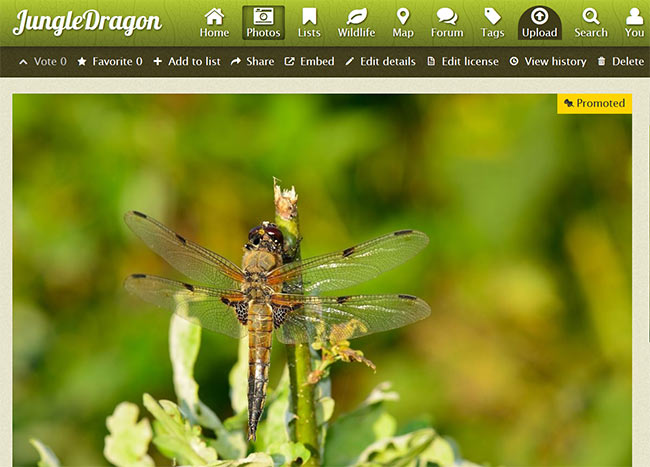 And where most websites disallow zooming on smartphones, JungleDragon has it fully enabled.
Built for Retina/High PPI
High pixel density screens, called "Retina" or "High PPI", typically have 4 times more pixels on the same surface compared to default PPI screens. As a result, most websites have unsharp elements on these screens, because the graphics are not ready for the extra pixel density. JungleDragon is built for high pixel density, allowing you the best possible image quality on your awesome screen.
Photo lists in the spotlight
Photo lists allows members to create sets of photos by including photos uploaded by others or yourself, targeting a topic of your own choice. Photo lists are a popular feature of JungleDragon, yet they did not get much attention in the user interface. This is changed now, photo lists are now accessible from the site-wide navigation bar, right next to "photos". In addition, photo lists now benefit from the large photo thumbnails, used as a cover photo for the list: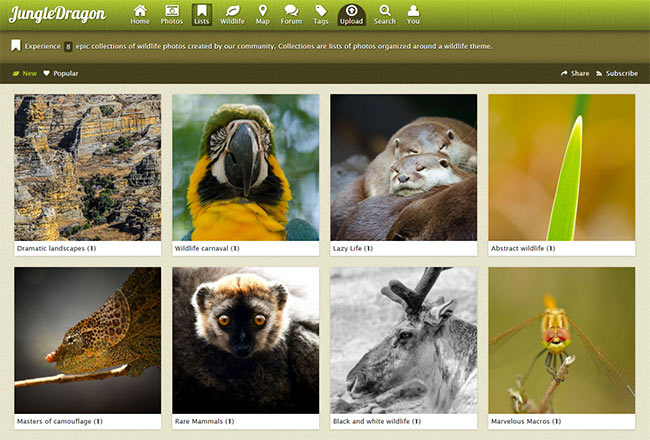 And because your custom list is a list of photos, it can be played in the new world-class slideshow player. We invite you all to create beautiful wildlife slideshows, and to share them with the world.
Species browsing and species pages improved
We did not make any functional changes to the species browser, however, we did beautify the whole experience. You can now browse the tree of life using beautiful thumbs and a simplified bread crumb: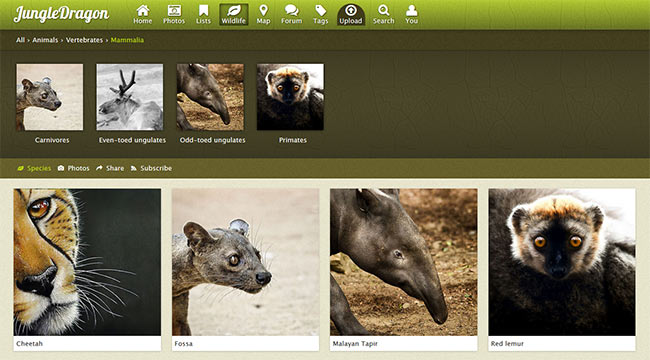 The results of your species selection are visualized as enormous thumbs, just like every other photo in the new JungleDragon. The cover photo for the species is based on photo karma, giving members thousands of opportunities to shine. When opening a species page, you'll notice the new design, which scales from a simple "card" like experience on mobile to a very rich page showing large photos on larger devices: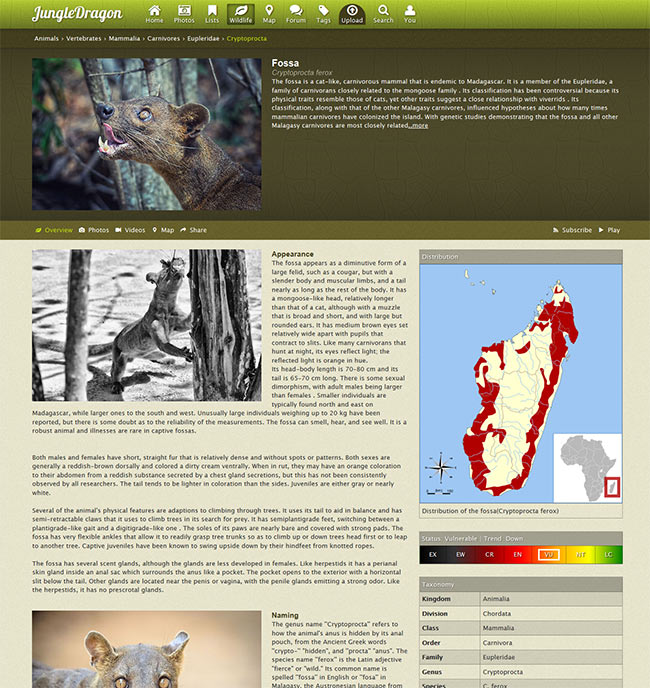 And as before, you can drill down into the species' photos, vides and map, as well as play all species photos using the fantastic new slideshow player.
Cleaner user profiles
JungleDragon user profiles pack a lot of content and options. You still have all that power in JungleDragon V3, yet the experience is now cleaner and more focused: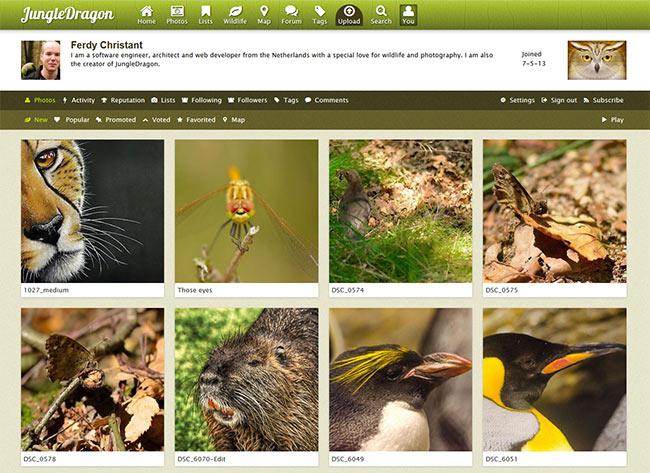 Your user profile can be accessed from the global navigation option "You", when signed in. The header is now a lot cleaner, it contains only the essential user details. There is an immediate focus on the members' uploaded photos, which benefit from the epic thumbs introduction in the new JungleDragon. From here you can drill into the user's profile to access photos in various sortings, the activity feed, photo lists created, tags used, comments posted, followers and following.
The new user profile has two new features worth mentioning. As mentioned before, you can now view all promoted photos of the member. Furthermore, there is now a dedicated reputation page that shows all your accomplishments: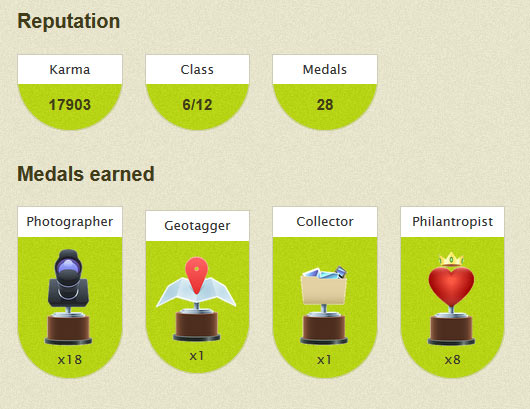 Simplified editing
The previous site featured inline-editing where you could simply click a title or description to edit it. However, this was not always clear to everybody and sometimes it was used by accident on confused with the comment field. Furthermore, testing reveals that inline editing on mobile touch devices suffers from poor usability. Therefore we made a slight change in how to edit titles and descriptions: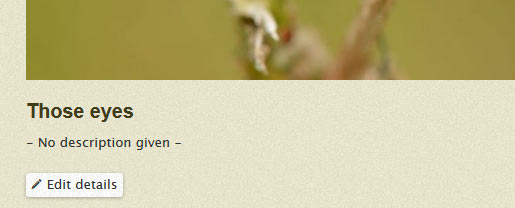 Instead of clicking on a title or description, you now have to click the "Edit details" button. An inline form will then immediately appear, allowing you to edit all fields at once: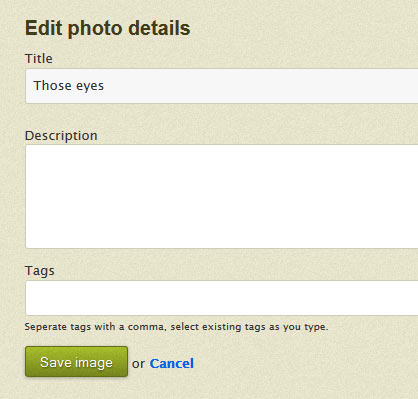 After saving, the photo details will be immediately updated without refreshing the page. This new way of editing also applies to editing the title and description of your photo lists.
Optimized sharing
At JungleDragon we invite everyone to share photos, species and other content using the share links. In the new JungleDragon, this has been much improved. The share button is now available on far more pages, and is better designed: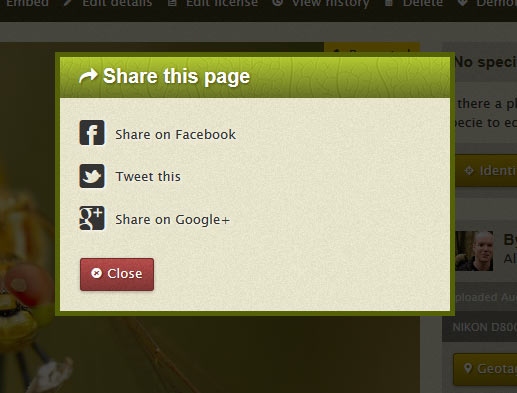 Since the sharing widgets are now loaded in a dialog only when you chose to share, they are not loaded for a page when you don't need them, saving precious bandwidth and speeding up the site. We also made the design consistent with the site itself.
Wrapping up
Thank you for taking the time to learn about JungleDragon V3. Our vision for the new JungleDragon is to place more emphasis on the content, using a drastically improved photo viewing experience across the board. Also, we'd like to deliver this experience to as many devices, and thereby as many people as possible. And as always, we do this in a genuine way. We do not bother you with ads, invade your privacy, we respect your rights as a photographer, and we will keep donating to wildlife. We do it simply because we love wildlife, and the people that love wildlife. We're not pefect, and never will be, but we hope you subscribe to this vision now and in the future.
Enjoy your new wildlife web habitat!
Ferdy ChristantFounder